Copyright©vanishing scotland


Diary of Events and Publications
Curating and Compiling Film and Exhibition for South West Community Woodlands Trust for showings at EAFS event in Dumfries and Galloway August 2015.
Spring 2015.
The Book 'Dunscore 100 Years' is
now on view to the public in Cairn Valley Health Centre. This Cultural History Collection, was made in Collaboration with the Community in Dunscore Parish by Alyne Jones for Vanishing Scotland.
Alyne has a teaching qualification in Textiles from Queens College Glasgow
In 1989 she received a Living Scotland Award from Glenfiddich to research and
produce a book on Sanquhar Knitting.
Practical knitting classes are suitable for beginners and more experienced knitters.
The Social History of Scotland and the context of the Scottish Traditional Patterns are contained within the stories of the knitters. These stories are an integral part of the Scottish Folk Traditions and the lives of the knitters.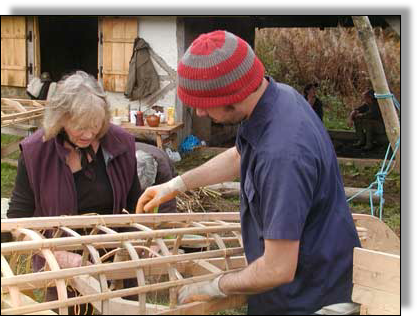 Article in Reforesting Scotland Journal, Spring 2009.
Coming Home to Myself.
An account of the experience of building a King Island Kayak with an Inupiat Eskimo. Made from Galloway Timber and first ever built in British Isles .
Building the Kayak at Taliesin, Galloway
Masterclasses in Traditional Knitting and Traditional Costume and Dressmaking Skills
booking now for 2014/15.
November 25th. BBC Alba , TV, AnLa news programme , 8pm.
Feature about my archive and 1912 diary filmed on location in Moniaive.
Interview between Seonaidh Mackenzie of BBC Alba , and Alyne Jones of Vanishing Scotland in her studio. The diary written in 1912 by Isabel Burton Mackenzie relating to her work as organiser for the Highland Home Industries is part of the Vanishing Scotland Archive.